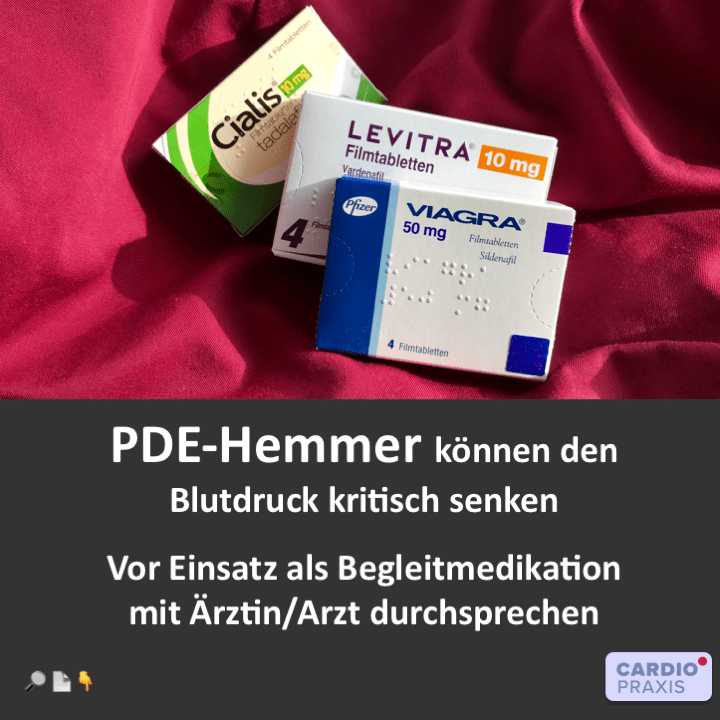 The main side effect of so-called PDE inhibitors such as Viagra®, Cialis® or Levitra® is a drop in blood pressure. Their adrenaline-mediated activation can also result in other side effects, including heart attack. Men who use a PDE inhibitor often also take alpha-blockers to treat prostate enlargement - as highly effective blood pressure-lowering drugs, these further increase the risk of side effects.
Typical symptoms are dizziness, loss of consciousness, racing or stumbling heart, feeling of restlessness or pressure on the chest. The whole thing can be prevented by clarifying the medication with the doctor. It is helpful, for example, to take PDE inhibitors and vasodilators at different times.
In contrast, Viagra and Co should never be taken with nitro preparations. A sufficient fluid intake of 30 ml per kilogram and day is also beneficial. In an emergency, you need to act quickly: if you feel dizzy or restless, put your legs up and, if in doubt, call an ambulance!
 Cardiopraxis - Cardiologists in Düsseldorf & Meerbusch