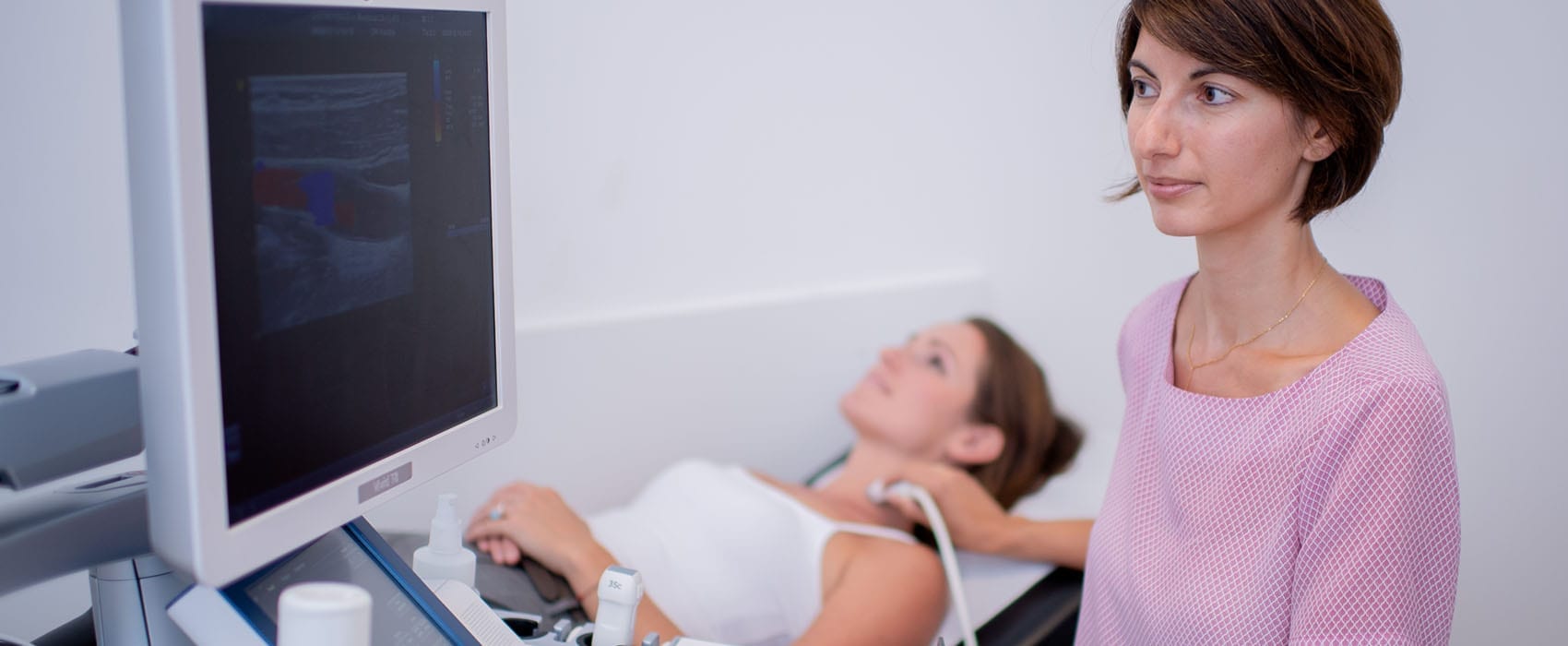 Doppler- und Duplexsonografie
der Halsschlagadern
Doppler and duplex sonography
When do we perform Doppler and duplex sonography?
With Doppler and duplex sonography of the carotid arteries, for example, we can determine whether there are narrow spots or deposits in your vessels and how pronounced they are. In Cardiopraxis, we perform this method in various situations: in the context of a vascular screening, for example, for aftercare of a carotid surgery or for indications of circulatory disorders in the brain (determination of the risk of stroke). We also use the valuable information we receive from this uncomplicated diagnostic procedure to initiate an individually tailored therapy for you if necessary.
The Doppler and duplex sonography of the carotid arteries is performed by the medical team of the Cardiopraxis with a lot of routine and experience – more than 3,000 times a year!
How does Doppler- and Duplexsonography work with us?
The Doppler and duplex sonography takes place while lying down with your head straight backwards. The doctor will first apply the gel ultrasound head to your neck, which may feel a little cold. The sound waves emitted by the ultrasound probe are then reflected by the structure of your neck region and sent back to the ultrasound probe. Your blood flow and its speed are also made visible and audible – the so-called "Doppler effect". Using a monitor, we finally receive an exact image of your carotid arteries in cross and longitudinal section down to below the jaw angle as well as an image of your arteries leading to the brain. Compared to the other imaging methods X-ray and computed tomography (CT), Doppler and duplex sonography has the advantage of being radiation-free and providing data in "real time". The examination only takes between 5 and 10 minutes.
At the Cardiopraxis, we take sufficient time for each patient to comprehensively address their cardiovascular problems and find individual solutions. We also try to find out the connection with other diseases in order to achieve the best possible treatment for everyone. We offer you the full range of outpatient cardiology services supplemented by invasive coronary diagnostics and coronary interventions in our own cardiac catheter laboratory. On the way to a healthy life we accompany you with regular consultation and lectures.